Welcome to School Street Cafe at Banks Chevrolet in Concord, NH
Whether you are grabbing a cup of coffee to catch up with friends, fueling up for the day with your family over savory breakfast dishes, or stopping by for lunch with your coworkers, you'll enjoy the welcoming atmosphere of School Street Café at Banks Chevrolet.
At School Street Café, we're not only fostering a sense of community with visitors, we're connecting and promoting with our community's small businesses. We source our food from local New Hampshire establishments and prioritize sustainability in the products we use.
Cheers
On the menu, you'll find plenty of drinks like espresso, latte, and Americano coffee when you're craving a caffeine boost. With hot and iced versions, your favorite coffee is available all year long. If you need a moment to relax and recharge, opt for a cup of tea, either hot or iced. Choices include Earl Grey, matcha, hibiscus berry, sage lavender, and more.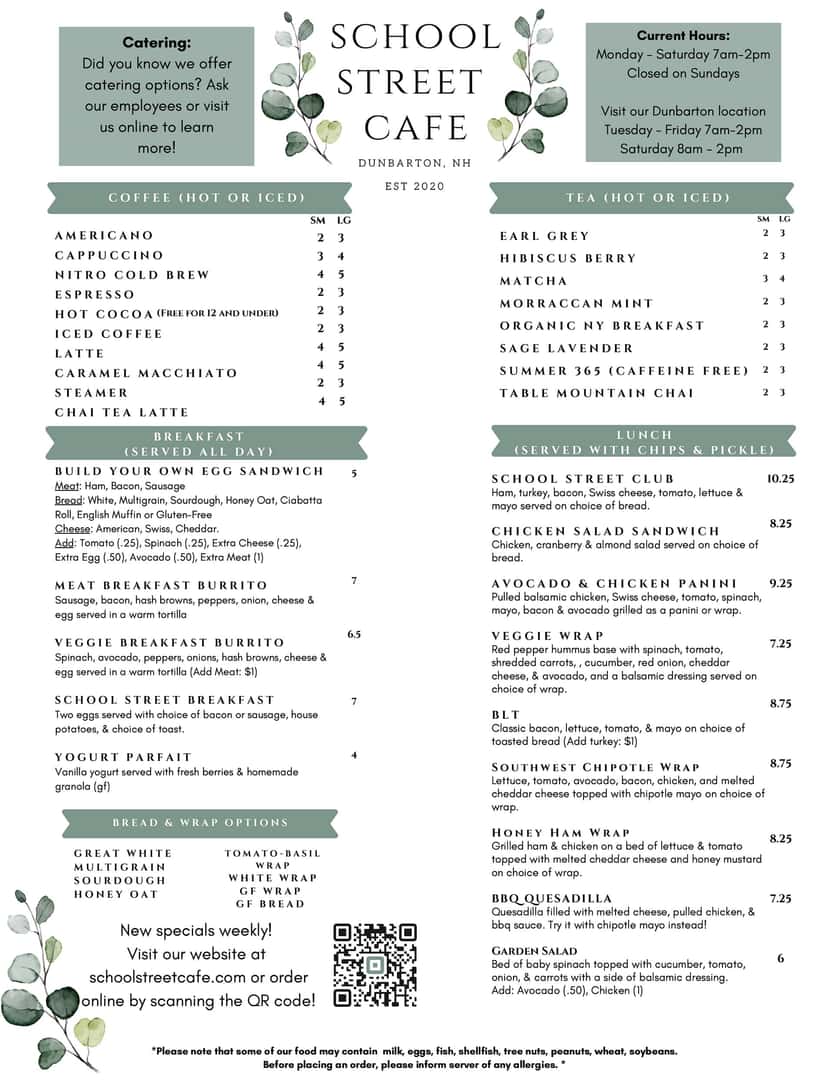 Morning Bites
Since breakfast is considered the most important meal of the day, the School Street Café offers delectable and hearty options to start your day off right. You can build your own egg sandwich or opt for a meat or veggie breakfast burrito. If you prefer lighter fare, you'll love the yogurt parfait with fresh berries and homemade granola.
Afternoon Eats
The lunch menu at the café features classic sandwiches including a savory BLT and the School Street Club. Satisfy your hunger with the chicken salad sandwich, veggie wrap, or avocado and chicken Panini.
Kids' Menu
Kids will delight at the choice of grilled cheese, ham or turkey sandwich, and PB and jelly (or fluff) sandwiches on the café's menu.
Hours Of Operation
The School Street Café is open Monday through Saturday from 7 a.m. to 2 p.m. It is closed on Sunday.
Discover the refreshing drinks, delicious eats, and welcoming community at Banks Autos in Concord, New Hampshire.