Welcome to the Banks Collision Center in Concord, NH
Call the Collision Center at (603) 410-2200
Does your car need repairs? Call the Banks Collision Center in Concord, New Hampshire. After getting into a collision, you'll want to make sure that your car is structurally sound and still safe to drive — and there's no better place to do that than here.
See for yourself. Use the buttons below to schedule service or contact our Collision Center.
See an overview of Banks Collision Center
Services
Collision Repair
Full-Service Paint Shop
Bumper Repair
Dent Repair & Removal
Scratch Repair
Front-End Damage Repair
Fender Repair
What We Do At Banks Collision Center
Banks Collision Center is prepared to repair any mechanical aspects of your car using the latest repair and refinishing technology. Our in-house mechanical department enables us to repair your car to factory standards while maintaining its warranty. By choosing Banks Collision Center, you help protect your investment in your car, and we help you get back to driving safely.
Convenience For Our Customers
We realize that getting your car repaired could mean you need transportation assistance. Banks Collision Center is happy to help you by providing 24/7 towing services as well as pick-up and drop-off assistance. We also work with Enterprise Rent-A-Car® to provide rental cars should that be a better option for you.
More About Us
Our state-of-the-art collision center spans 55,000 square feet and employs 28 staff members, all dedicated to providing you with the highest-quality repairs and customer service. No matter your needs, we'll make sure they're met and treat you with due professionalism and courtesy every step of the way.
Whether you need an inspection or comprehensive repairs, Banks Collision Center has the right people and the right equipment to restore your vehicle to the way it was meant to be — just like a factory reset. Call us at 603-410-2200 to get your car repaired as soon as possible.
What does the repair process look like?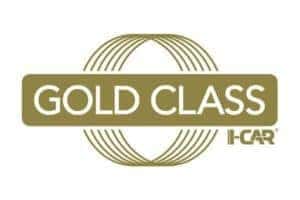 Gold Class advantage
Our collision center is Gold Class certified by I-Car, an independent technical organization supported by the largest insurance companies in the United States. Only 20 percent of collision repair shops meet the Gold Class standard. This designation means our trained technicians know how to repair your vehicle properly.
I-Car Gold was formed in 1979 as the premier technical training organization for collision repair and is recognized and supported by most of the largest insurance companies in the US as the Industry Standard for proper collision repairs.